Hi, I'm Missy, and thank you for visiting MG Theme Design. I am a Fractal Artist who has spent the last 20 years learning the art of fractal creation and digital art in general, with my latest passion being the creation of Android Phone Themes. I began pursuing my interest in art in the early 2000's. I actually began a bit earlier than that learning graphic programs in an effort to create a family "home page." This led to the digital, 3-D and fractal art world, and once I entered that world, I never left. I am a perfectionist by nature which helps in digital art and I am also very color-aware. What I mean is, even when I was a small child I wanted everything around me to be color-cohesive.; all of my furniture, fabrics, etc., had to color-compliment each other. I take color into account in everything I do from home decorating and wardrobe design to my digital art work. This is why theme design is a perfect fit for me. I love it with a great passion.

Prior to devoting my time to creating digital and fractal art, I spent many years creating Windows Desktop Themes. I loved creating themes, and received a few honors during that time. Some of my themes and screen savers were published with EZ CD Creator 5 on the bonus CD that came with the boxed program. I also had some of my themes published in a Taiwanese graphics magazine. One of my art images was used as CD cover for a world music-type group, and another piece of art was used on a hard rock band CD cover. I also created a CD full of my Windows Desktop Themes and sold it online. It did very well and far exceeded my sales expectations. Those were all very fun experiences. More recently many of my fractals have been featured on CBS Sunday Morning TV show with Jane Pauley. Thank you CBS!
Thanks for stopping by my website and have a great time looking around! You can email me if you wish through the contact page which is found in the main menu, and you can visit all my social media pages by clicking the links found at the bottom of the page.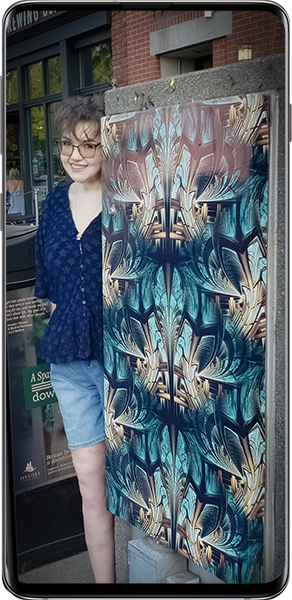 My Fractal Art Won an Art Competition and is on Permanent Display in Downtown Spokane, WA.